Legalize Unpermitted Work
California State laws require permits to be obtained for most types of construction and remodeling projects to ensure that the work done complies with local building codes and safety standards. However, there are occasions where the homeowners building without permit from the local authorities. Fortunately, Los Angeles laws allow getting a retroactive building permit if the work meets the minimum local codes and standards without demolishing the entire building or starting from scratch.
Bringing an unpermitted build up to code, however, is a complex and lengthy endeavor. You will need to acquire all the necessary permits from the Los Angeles Department of Building and Safety (LADBS) and a significant amount of additional work, depending on the nature and scope of the construction. Getting a post-construction permit could be exhausting and perplexing for many homeowners. Therefore, it is advisable to seek the stewardship of a local, licensed design-build firm that has extensive experience in dealing with unpermitted structures.
Helping You Obtain a Retroactive Building Permit

We at CCS Inc (Construction & Consulting Services) know what exactly it takes to obtain a post-construction permit to bring any unpermitted structure into compliance. We have a team of highly experienced permit expeditors who are well-versed about all the current laws regarding building permits and paperwork in Los Angeles. Over the years, we have helped thousands of homeowners get their unpermitted work retroactively permitted among the communities we serve.
No matter what the nature and size of your unpermitted work, we can meet with the Building Department on your behalf, design and draft required documents, and communicate with the City Inspector during inspection to find the most economical way to bring everything up to code.
LADBS Permit Search
How to check if a house has a permit in Los Angeles? LADBS permit lookup and permit status is now available for free: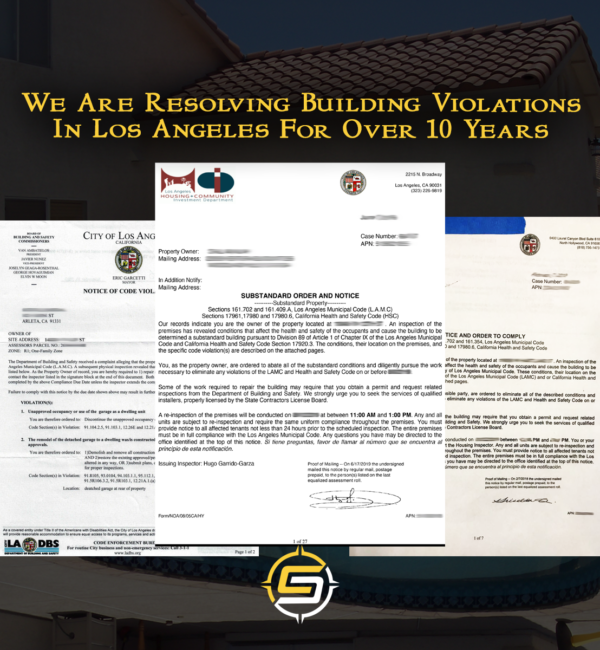 Why Do I Need to Obtain a Retroactive Building Permit for My Unpermitted Work?
Some of the common reasons you should obtain a permit for your unpermitted work even when it's work done without permit by previous owner
How To Legalize Unpermitted Work
To approve your unpermitted work post construction, there are two main options: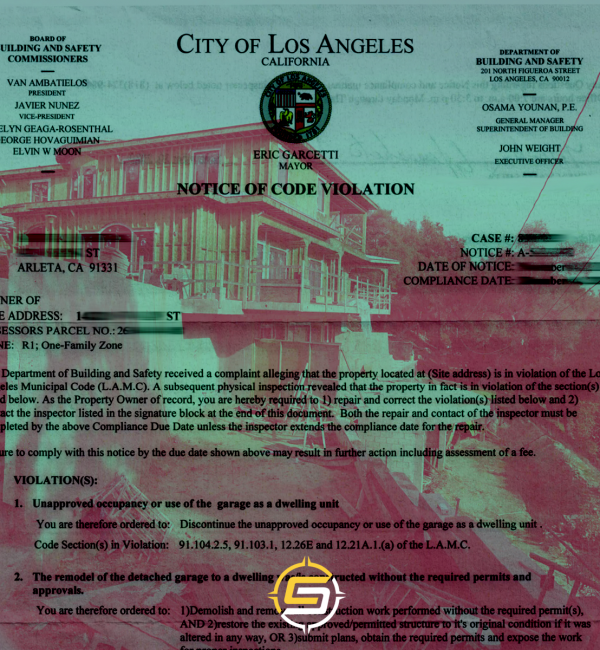 Contact Us Now To Permit An Unpermitted Work
How to Homologate Your Unpermitted Work
The process of obtaining a retroactive building permit consists of the following steps. We can work closely with you throughout the way to make the entire process easy and hassle-free for you.
Permit My ADU After The Work Is Done
In order to combat the crises of affordable housing in the state, California offers an amnesty program to endorse the legalization of all types of accessory dwelling units (ADUs) as long as they meet the current building laws and codes.
Eligible Properties for ADU Amnesty Program
Your ADU will be eligible for enrollment in the program if:
It was constructed or converted before December 31, 2019.

An occupant currently lives in the unit.

There is no application in progress to obtain a retroactive building permit
Ready For Remediate Unpermitted Work?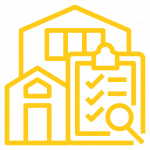 Let Us Formalize Your Unpermitted Work
Whatever the type. size and complexity of unpermitted structure you are looking to get retroactively permitted, let CCS Inc remove the guesswork and streamline the process for you to put your mind at ease. Reach out to us at (323) 405-8909 to learn more about the process and costs of ratifying an unpermitted structure or set up an appointment with our experts.
Frequently Asked Questions
How Much Would It Cost to Permit My Room Addition Post Construction?
The cost of legalizing an unpermitted addition or any other work widely varies depending on a number of factors, including its nature, size, the extent of work done. We recommend you to obtain quotes for the process from an experienced design-build firm like us.
Do I Need to Permit My Conversion Without Paperwork Before Selling My House?
Not necessarily! However, selling a house that has an unpermitted conversion or any other kind of work done without necessary paperwork is difficult. This is because people are reluctant to buy a home that has unpermitted construction because of safety concerns and the time and money required in the process of legalizing it. If you want to sell your house as-is, you will have to offer it for a lower price than its market value.
Keep in mind that being the homeowner, you will be legally obliged to disclose unpermitted work to the buyer. Not doing so may result in legal repercussions when it is discovered by them later.