Ever since the crisis of affordable urban housing has deepened in California, the city of Los Angeles has been creating innovative strategies to encourage qualifying homeowners to build Accessory Dwelling Units (ADUs) on their property.
In the latest development, the city has launched an ADU Standard Plan Program that offers a new set of plans to a variety of pre-approved designs to streamline and expedite the process of obtaining required permitting and bring down the costs involved in the process.
This program, however, only applies to stand-alone ADUs and not to garage conversions or attached ADUs.
In recent months, California has relaxed a lot of regulations for building ADUs to create more affordable urban communities statewide. The results are quite impressive, with figures showing that ADUs make up 22 percent of all newly approved housing in Los Angeles.
Here is everything the Los Angeles homeowners need to know about preapproved ADU plans.
What is ADU Standard Plan Program?
The Standard Plan Program is an initiative launched by the Los Angeles Department of Building and Safety (LADBS) that enables homeowners to benefit from pre-approved plans and designs.
The program provides homeowners access to 20 preapproved plans designed by ten different architecture firms in Los Angeles. Another eight plans from four more firms are pending approval of the building department.
The Los Angeles homeowners can directly access firms that have permit-ready ADU building plans.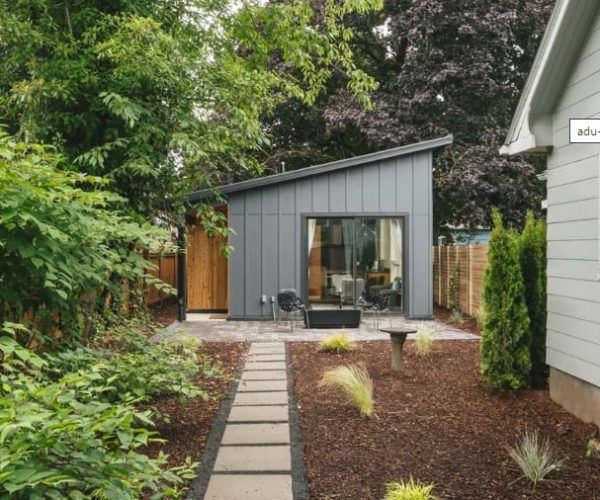 What Do Pre-Approved Plans Mean for Los Angeles?
The most obvious advantage of these pre-approved ADU plans for Los Angeles homeowners is that they can expedite the design process and help them save their time and money,
How Long Does It Take to Get a Pre-Approved Plan Permitted?
A pre-approved plan can bring down the ADU plan review process to as little as one day in some cases.
Normally, the homeowners have to wait for six to twelve weeks to have their plans approved by the building department.
How Can I Access Pre-Approved ADU Plans?
LABDS has listed the pre-approved plans on their website and the homeowners can find and choose one that they like best.
Can I Submit an Approved ADU Plan As-Is?
Choosing a pre-approved plan does not mean that you will walk out to the building department the same day to get a permit. These plans require documentation specific to your property. Apart from floor plans, they also require site plans, title 24 calculations, and structural calculations. CCS can help with modifying these plans to work with your property
The site plan must also feature the layout off with the footprints of all existing structures, proposed structures, electrical and sewer plans, exterior walls, gates, setbacks, and driveways.
In certain cases, you may also need to submit grading plans, septic design, and other documents along with the pre-approved plans to obtain a permit. CCS can help with these as well
How Can I Proceed with Approved ADU Plan?
Once you choose an approved standard plan that best suits your needs, you will need to submit it to the building department along with a site plan and other necessary documents.
The building authorities will take into account your property-specific factors and issue a permit if your ADU meets with the current zoning laws and ordinances.
What are the Minimum/Maximum Sizes of Pre-Approved Plans?
Pre-approved ADU plans come in different sizes, ranging from a studio as small as 340 sqft to a two-bedroom unit up to 1,000 sqft. These ADUs can be either single-story or built in a duplex.
In Which Case I Cannot Benefit from Pre-Approved ADU Plans?
In Which Case I Cannot Benefit from Pre-Approved ADU Plans?
You cannot benefit from these pre-approved ADU plans if,
Any of these pre-approved plans do not match your available lot.
You want to build an attached ADU or convert your existing garage into a secondary dwelling.
How Much Does a Pre-approved ADU Plan Cost?
Pricing for these pre-approved backyard unit plans may vary widely depending on various factors, including the plan size and the firm that has designed it.
The cost of a standard ADU plan can be half as much of a custom design if it is used as-is. However, you will still need permit drawings specific to your property that may cost you somewhere between $3,000 to $5,000.
Are Approved ADU Plans Customizable?
Though customization possibilities are there for these modular ADUs, they may incur additional design fees and costs, which could be anywhere from $2,000 to $4,000.