Since January 2020, it has become easier than ever to build an accessory dwelling unit in Los Angeles. The local historic districts, also known as the Historic Preservation Overlay Zone (HPOZ), of the city are no exception.
Building a secondary dwelling in any property designated as a historic resource, however, is subject to additional review by the local historical committee, which ensures that the proposed structure complements the historic character of the area.
If built with the approval of the HPOZ board review, the ADU can not only trigger an action from the Department of Building and Safety Code Enforcement but may also lead to hefty fines and penalties.
What is HPOZ Ordinance?
HPOZ ordinance is a local historic district program that is designed to preserve and protect the distinctive architectural as well as cultural resources of the historic neighborhoods in Los Angeles.
There are 36 designated historic neighborhoods across the county that are administered by the Los Angeles City Planning Department. Each of them has a Preservation Plan with design guidelines and a five-member HPOZ Board that is responsible for reviewing any proposed work.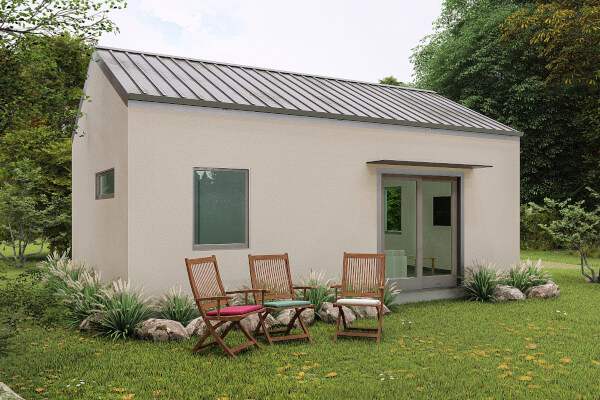 The Historic Designations of Properties in HPOZs
Based on historic resources surveys of HPOZ areas, properties in local historic districts are classified into the following categories;
Contributing Structure– One identified as contributing to the historical significance of the HPOZ.
Contributing Altered Structure– One that was constructed during the same period as the contributors but has kept intact their historic character despite having undergone major alternations (that deem revisable).
Non-Contributing Structure– One not identified as a contributing structure.
How Are ADU Regulations Different for Properties in an HPOZ?
The rules and regulations for ADUs in HOPZs are mainly the same as those in the main cities of Los Angeles. The aspects they differ include;
Parking Requirements
ADUs in properties located in a historically significant district do not require additional parking, unlike those in the main cities.
Setback
All the attached and detached ADUs in Los Angeles are required to have a side retain and rear setback of at least four feet; however, those in an HPOZ are also required to be six feet from the primary dwelling.
Since no setbacks are required if the ADU is created through the conversion of an existing space, a garage conversion is a more feasible way to go.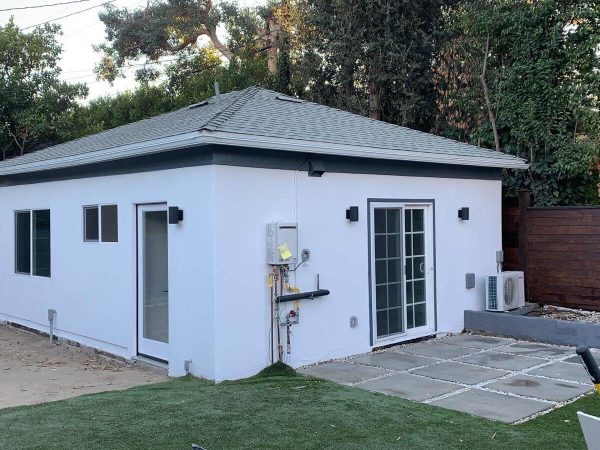 How to Obtain an ADU Permit for an HPOZ?
The process of obtaining a permit for an ADU in an HPOZ consists of the following phases;
Step 1 – Determine Your Property's Historic Status
Consult Los Angeles City Planning's web-based mapping tool, ZIMAS, to determine whether or not your property is located within an HPOZ and see if it is designated as a contributor, contributor altered, or non-contributor.
Step 2 – Review the Preservation Plan Guidelines
Thoroughly review HPOZ Preservation Plans to determine the appropriateness of your ADU project. These guidelines will help you make the right choice in terms of massing, style, and materials for your project.
Step 3 – Get Professionally Drawn Plans
Once your ADU project deems appropriate, meet with an architect and designer to get professionally drawn floor plans for your new dwelling.
Step 4 –Submittal & Review
Submit your proposed ADU application on the Online Application System of the Planning Department. The planning staff will guide you on the next steps. The review process will get underway once all of the required information is provided to the authorities.
Depending on the type of your proposed ADU, your application will be subject either to a Certificate of Appropriateness (COA) or Certificate of Compatibility (CCMP).
Step 5 – Final Approval
Once the Letter of Determination (LOD) is issued by the Planning Department, if a COA or CCMP is required, an appeal can be filed within 15 days. If the project is approved and no appeal is required to be lodged, you will need to pay the invoice. The authorities will then schedule a meeting with you and approve the plan and sign off the permit for your ADU.
Bottom-Line
Though there are building restrictions in place in HPOZs, it is possible to build an ADU unless it does not have any adverse effects on architectural and cultural resources.
Need Help Navigating ADU Regulations in an HPOZ?
If you own a property in an HPOZ in Los Angeles, it is never a better time than ever to build an ADU and play your part in combating the crises of affordable housing in the state.
Call us at (323) 405-8909 for any questions you have about ADUs in an HPOZ, and we will get back to you with the most accurate information.