In yet another landmark move to make it easier to build affordable housing in the state, California has passed two new bills to end the 100-year restriction of a single-unit.
The bills, known as Senate Bill 9 (SB 9) and Senate Bill 10 (SB 10), have legalized duplexes and quadplexes in areas that were previously zoned for single-family-only housing.
Here is an explanation of what these bills state;
SB 9
SB 9 allows owners of single-family lots to subdivide their parcels into two and create a maximum of four units.
Prior to the passage of SB 9, the homeowners were allowed to build up to three units on a single-family lot—the principal home, an accessory dwelling unit (ADU), and a junior ADU (JADU).
Any new development under SB 9, however, will still be subject to regulation of the local governments. They can veto the development that they find that can have an adverse impact on the health, safety, or the physical environment.
It is pertinent to mention that SB 9, however, does not prohibit the construction of single-residence homes but provides the opportunity to add more housing options.
Limitations & Exemptions
SB 9 has placed some restrictions to prevent the displacement of existing tenants and ensure that the design of any new unit is consistent with other buildings in the neighborhood. They include;
A unit that a tenant has occupied during the last three years could not be demolished.
Short-term rentals may not be offered on the units that are constructed during the last three years.
Anyone who wants to divide their property into two lots is required to live in one of the new units for at least three years.
The parcel to be split under SB 9 must be a minimum of 2,400 sqft in size.
Each subdivided lot has to be at least 1,200 sqft in size and should be no less than 40 percent of the original size of the parcel.
A side and rear setback of the unit can be up to four feet.
Areas that are exempt from the requirements of the bill include;
Local Historic Districts
Earthquake Fault Zones
High Fire Zones Areas
Areas Prone to Flooding
Farms
Wetlands
SB 10
SB 10 allows the cities to change their zoning laws to a maximum of ten residential units if they are located within half a mile from a mass transit like a bus terminal or train line or a low-density urban infill neighborhood.
Though it was already within the jurisdiction of the local governments to make such changes, they were subject to California Environmental Quality Act (CEQA) review.
From here on in, any such development would not be subject to CEQA consideration.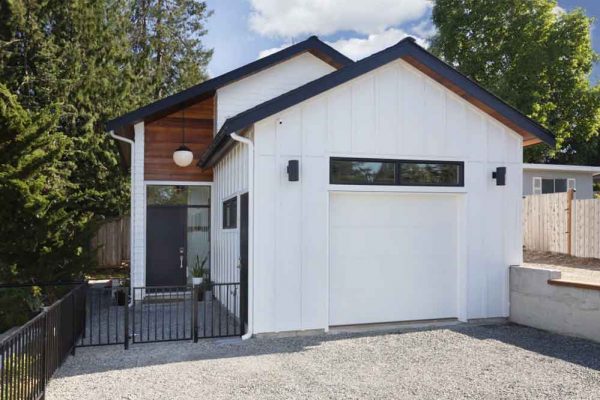 Final Words
The end of exclusionary, single-residence lots is the continuation of the state's years-long attempt to address the ongoing housing shortage and affordability crisis. The new bills will make it easier and quicker for the local governments to zone for increased housing.
A study conducted by Terner Center for Housing at UC Berkeley predicts around 7.5 million single-residence lots in California being converted into multifamily parcels over the next few years.
As a result, more than 700,000 new homes are expected to be built across the state on what were previously single-family-only lots.
There Has Never Been a Better Time to Build an ADU
The passage of SB 9 and SB 10 will significantly increase the construction of ADUs in the greater Los Angeles area, where the secondary dwellings are already on the rise.
Over the years, thousands of homeowners in the city have created these small units on their lots to maximize their housing options or to earn a handsome rental income, and now its your turn.
Call today at (323) 405-8909 to learn more about ADU rules and regulations in Los Angeles or schedule a consultation with us.