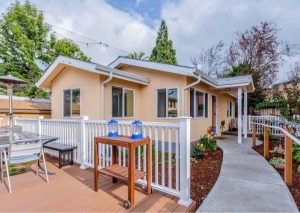 Call it a granny unit, a backyard home, a guest unit, in-law unit or secondary dwelling unit. The name is different but the concept remains the same. Building an ADU on a duplex can be a tricky and risky task. Before you begin the project, it is important you make the right decisions. To help you achieve 100% efficiency when building an ADU here are some important tips to follow.
Involve a Qualified ADU Builder Near You
Any general contractor will try to sell you the job of building an ADU only because they hold a license to do so. However, building an ADU requires additional knowledge and expertise on this area. Certain rules and regulations make it difficult to complete tasks when dealing with the city. Building an ADU on a Duplex requires skill and use of the right technology to be implemented out on the field. In that regard, your fist step should be to look for an general contractor with expertise on ADU building. Note that, I am talking about a qualified ADU builder with experience in building an ADU on a Duplex. Therefore, carry out your own due diligence even when all ADU contractors claim on paper that they have built an ADU in the past.
Ensure the Project is Well Planned
Do not indulge in a construction project unless you have done the right planning. Failing to plan is just planning to fail! Therefore, put pen to paper, and come up with a proper plan. Involve an experienced ADU building contractor to ensure you have an appropriate plan in place. Talented designers are needed for this type of jobs along side a contractor who will put the time and effort to reach the necessary goals to build an ADU that best fits your criteria.
Ensure a Straightforward ADU Designing Process
Never take shortcuts when it comes to design and building an ADU. It is paramount that a qualified designer is part of the project. A qualified designer will help you come up with a proper structural plan for an ADU on a Duplex project. The design should be taken through the necessary approval process to avoid falling into trouble with authorities. Not following the due process may lead into regrets later. Note that ADU construction requires adherence to certain rules, and it is important that you follow these rules.
Hire CCS Inc. for the designing and building of an ADU on a Duplex. We are a registered ADU construction company, and we ensure due process is followed when building ADU on Duplex. Contact us today and we will be glad to serve you.