What Is A Detached ADU?
A Detached ADU is a secondary dwelling unit that is located on your property separate from the main house. Your ADU will be designed with a full kitchen, bathroom, living space and more, based on your approved design and built according to CA ADU Building Codes standards. Detached ADUs are eligible for a separate address and separate utility meters.

Ground-up structures such as detached units will add extra living space and increase landlord's rental income. We have the expertise and knowledge to maximize your ROI and increase your property value to it's highest potential. By adding new construction, our design and building professionals will transform your detached ADU ideas into reality .
Build Detached ADU in Los Angeles
Benefits of a Detached ADU
Extra Living Space
A detached ADU can be built up to 1,200 sqft which can fit up to three bedrooms and two bathrooms. 
Passive Income
Rent out your detached ADU to generate additional passive income. 
Increased Property Value
Building a detached ADU will significantly elevate the value of your property. 
Maintain Privacy for You and Your Tenants
With detached units we have more flexibility in designing separate entrances, walkways, backyards and patios. Both the main home and the ADU can enjoy an outdoor experience in a private setting.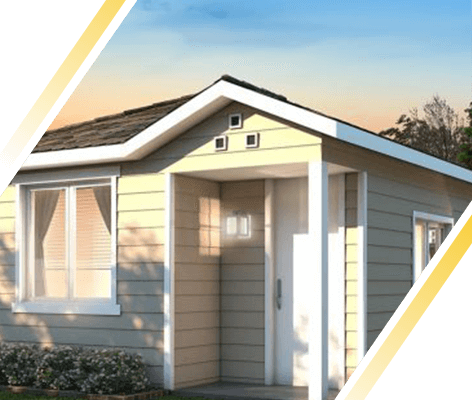 Enter The Address Of Your Property To Our Free Building Cost Estimate Tool And Get The Estimated Costs Of Building An ADU
#1 Detached ADU Contractor in Los Angeles
CCS Inc Provides Complete Detached ADU Services, Including Custom Layouts, City Permits, and Construction Management.
ADU Financing
We have financing programs available for your detached ADU project.