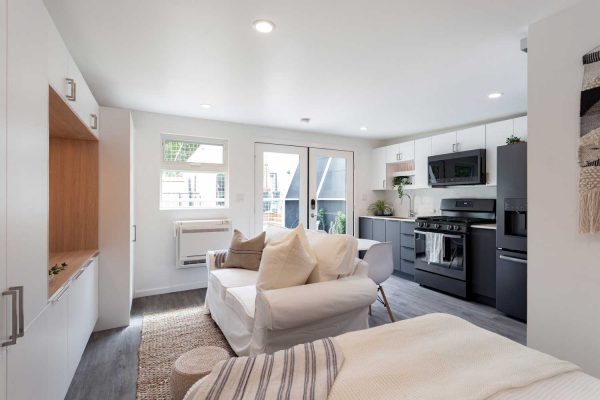 Accessory Dwelling Unit (ADU) Garage to Apartment Conversion is amongst the popular ways to create an additional living space within an existing residential lot in Los Angeles. In fact, a garage conversion is the easiest and the most cost-effective way to remodel your home seamlessly without revealing any palpable sign of renovations on the building structure.
If you are looking to take advantage of the change in state-building regulation by converting the garage to a beautiful ADU, read through the post carefully to know the basics of doing it flawlessly.
How to Make a Perfect Garage Conversion?
Ideally, the converted garage should reflect the look and feel of the rest of the house.
So, the first step in this regard is to find an architect or design firm to draw the perfect garage conversion plans that match your home. This is a pretty basic project, so you don't need an expensive architecture firm. Designers can discuss different garage conversion layouts with you and give advice on which options will work best for you. In most cases, design work involves the interior layout, and apart from front door and windows, there is very less work on the exterior of the garage – so that part of the design remains reasonably basic.
Once you give the go-ahead on the layout, the architect will submit the same to the city building department for final approval and issuance of a permit. Meanwhile, you can discuss the project with a few general contractors and compare the bids to put the required finances in place.
Garage Conversion to ADU: Details Are Important
The layout you have finalized will give the contractors the information they need to bid the job, but that won't cover all the aspects. Most cities don't require your plans to include details about plumbing, electrical, HVAC, etc., so you'll need to provide complete details of your requirements to the contractor.
Besides, you must also discuss the additional requirements like re-roofing, concrete work, landscaping, paintwork, installation of accessories like a bathtub and kitchen design to get close to the final estimate bid.
Finally, the more detail you provide regarding your desired materials, the more precise your contractor's price can be. It will be of great help if you can pick out flooring, tile, lights, kitchen cabinets, faucets, windows, doors, etc. in advance.
Additional things to consider for an ADU Garage Conversion
You have done enough but still, it is insufficient. Here are a few more things to consider for garage conversion to ADU.
Sewer line: The greater Los Angeles city administration will most likely require you to install a new sewer line from your newly converted ADU to the existing sewer lateral in your front yard. You must discuss with your contractor the location and depth of your existing lateral, so they know exactly the volume of work to connect your ADU sewer.
DWP powerlines: LA city administration will certainly turn down your plan for garage conversion to ADU if DWP power lines are at the back of your home, and your garage is currently under the powerlines. You must discuss with DWP about moving the line over your garage. it, however, can be a bit costly and take more time than expected.
Renting a garage conversion ADU: You can rent your ADU to a tenant even if you don't live on the property but you can't sell it separately.
How Much does it Cost?
No doubt, garage conversion to ADU is cheaper than building an independent unit, but still, how much does it cost. Well, this question will never get a definite and straightforward answer as it depends upon so many factors like the size of the garage, location, access, design, and material options selected. Still interested to know the numbers? On average, garage conversion costs between $10,000 and $50,000.
ADU Garage Conversion
Garage conversion to ADU might look easy, but it's certainly not a DIY job, and you should look for local and licensed General Contractors. While negotiating with the contractors, make sure that they have the right experience of garage conversion of ADU.
CCS Inc is a one-stop company for garage conversion to ADU in the greater Los Angeles area. With our in-house design team and dependable construction division, our company effectively presents garage to apartment ideas that fit your needs.