Los Angeles is considered one of the most viable locations to construct an ADU. For property owners, constructing an ADU gives them an opportunity to generate additional rental income from tenants.
Other ways to utilize these structures may include using them as guest houses for in-laws or other family members to use when they visit. Accessory Dwelling Units may also be used as extra living space in case of any emergencies or things, such as major renovations being done to the main house. Most commonly, you may simply just need space for your loved ones.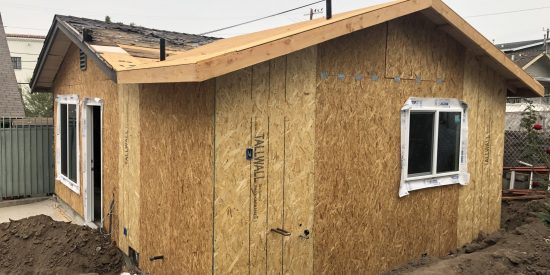 The cost of an ADU
For property owners who are willing to build an ADU, an obvious question is how much does it cost to build an ADU?
Even though this is a legitimate question, there is a lot of sources that provide invalid information on how much a complete Accessory Dwelling Unit will cost to construct. Companies may give a quote on construction without visualizing the floor plans. This is a major red flag that you must be aware off when receiving estimates.
The cost of building a legal ADU of about 400-480 sq ft with a kitchen, bathroom, living room, closet, one bedroom and possibly space for a washer and dryer can typically start at a minimum of $70,000-$80,000 (including plans & permits).
Factors That Determines The Cost To Convert Garage To ADU in Los Angeles
If detached from your home, you are also eligible to get a separate address with a separate meter and panel box that can be used to manage two different utility bills. In some instances, a stand-alone ADU will cost up to $120K or more due to the design of the building.
The floor plan designs play an important role in determining what the construction costs will be as well as finished material. These are two key factors that can potentially fluctuate the cost of your ADU. Sincerely speaking, the total cost of building an ADU depends on numerous elements when constructing one.
There are also different phases in an ADU construction which include demolition, foundation, framing, roofing, plumbing, electrical work, etc. If we are working on a new structure, you will save demolition costs but will need to include foundation costs for the project. On the other hand, if this was a garage conversion and there is an existing foundation, then you are able to save foundation costs in this scenario.
Each of our clients have different situations which is why prices vary from each project. Generally speaking, garage conversions are cheaper than new ADU construction because the existing structures of the garage can be used to the builders advantage. However, you must also consider that if the existing structure of the garage is in bad condition, the entire structure must be demolished and built from scratch. In this case, doing a garage conversion might not be the most economical way to go.
Below, we cover the different items you will want to look at when determining how much an ADU will cost in Los Angeles.
1. How big ADU you need
Of course, a 100 square feet ADU will cost less than a 2000 square feet ADU. Therefore, when calculating the estimated cost of putting up an ADU, the contractor is likely to cost per the square foot and give you an average cost.
However, note that the total cost per square foot will go down if you are putting up a substantial ADU. Therefore, when constructing an ADU, it is advisable that you construct to the maximum size that is allowed.
2. The Design
Although the ADU is smaller compared to the main house, designs affect the total cost of putting up the ADU. Talk to the designing professional for an estimate on how much it will cost to draw the blueprints.
A complicated design will cost you much more even in terms of materials. The simple design takes less time and resources to put up. Remember that the design of the ADU also depends on the type of ADU that you are putting up.
There are different types of ADU. These include:
• Detached new construction ADU
• Garage conversion ADU
• Attached ADU
3. The regulatory requirements
Approvals from the Los Angeles building and construction regulatory body can sometimes be costly. While coming up with the ADU construction cost in Los Angeles, consider the regulatory costs, which will vary depending on factors like size and type of the ADU being constructed.
4. Cost of engineering review
The process of putting up an ADU in Los Angeles might sometimes call for engineering review. This is necessary so that you can determine if the project is going to serve the required purpose, and gives the optimal operational and maintenance cost. The engineering review cost will be added to the estimated cost of building an ADU in Los Angeles.
5. Condition of the site
We have mentioned excavation cost as one of the components of the total project cost when putting up an ADU. The cost of constructing the ADU will increase when you are putting up the property on wetlands or conflicting utilities. Other factors include overhead lines, buried storage tanks, and endangered species habitat.
Talk to an expert with experience in ADU construction to find out the estimates involved when putting up an ADU. Now, let us review the different types of ADU mentioned earlier on.