Los Angeles is considered as one of the most hot locations for homeowners to an investment on their real estate and build an ADU. Building an ADU gives an opportunity to generate additional rental income from tenants and increase the property value.
Accessory Dwelling Units may also be used as extra living space or room, such as home office / gym / guest house which not going to be considered as a full ADU, which means it's smaller than a fully equipped backyard house and called Junior ADU which is a lot cheaper to build.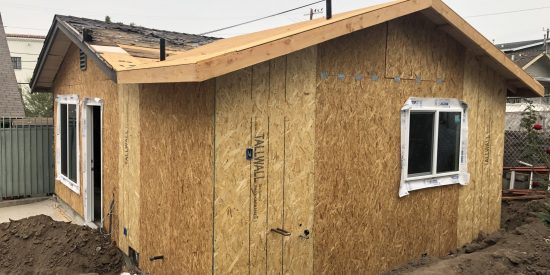 The Cost Of Building An ADU
For property owners who are eligable to build an ADU, an obvious question is how much does it cost to build an ADU?
There is a lot of answers for this question "how much a it cost to build Accessory Dwelling Unit in Los Angeles" and the exact answer should be answered only after the materials and finish options has been choose and the floor plans are final. Companies may give a quote on construction without visualizing the floor plans. This is a major red flag that you must be aware off when receiving estimates before the floor plans are final and it is important to check their license and their online reviews if they did so.
The minimum cost of building a legal 400-600 sq ft ADU with a one master bedroom, kitchen, guest bathroom, living room and storage closet and possibly space for a washer and dryer can typically start at a minimum of $90,000-$100,000 (including floor plans, fees & permits).
If you are building the ADU detached from the main house, the ADU is eligible to get it's own separate address with a separate meter and panel box that can be used to manage different utility bills.
The cost of building detached ADU start at a minimum of $110K and may vary due to the design of the building and it's distance from the main street.
Factors That Determine How Much It Cost Build An ADU In Los Angeles
The floor plan, finish materials, the location of the ADU and the design play an important role in determining what the construction costs. These are key factors that can potentially fluctuate the cost of your ADU. Sincerely speaking, the final cost of building an ADU depends on numerous elements.
The phases of the ADU construction include demolition, foundation, framing, roofing, plumbing, electrical work, etc. If we are working on a new structure, you will save demolition costs but will need to include foundation costs. On the other hand, if this is a garage conversion and there is an existing foundation, then you are able to save foundation costs in this scenario.
Each of our clients have different situations which is why prices vary from each project. Generally speaking, garage conversions are cheaper than new construction ADU because the existing structures of the garage can be used. However, you must also consider that if the existing structure of the garage is in bad condition, the entire structure must be demolished and built from scratch. In this case, doing a garage conversion might not be the cheaper option.
Schedule free consultation with our specialist to get building cost estimate, click here to schedule free phone consultation.
Below, we cover the different factors when determining how much an ADU will cost to build:
1. How Big Is The ADU
Of course, a 400 square feet ADU will cost less than a second story 1,200 square feet ADU. Therefore, when calculating the estimated cost of putting up an ADU, the contractor is likely to cost per the square foot and give you an average cost.
However, note that the total cost per square foot will go down if you are putting up a substantial ADU. Therefore, when constructing an ADU, it is advisable that you construct to the maximum size that is allowed to maximize the value of the property.
2. Finish Materials & Design
Design and quality affect the total cost of putting up the ADU. A complicated design will cost more in terms of materials. The standard cabinets, doors, windows and etc will put the project with less expenses and more simple installations which will reduce the resources to put up.
There are different types of ADU. These include:
New construction detached ADU
Adding ADU on top of a garage (second story ADU)
Converting the garage conversion to an ADU
Attached ADU
Detached garage conversion ADU
3. City Regulatory Requirements & Fees
Approvals from the Los Angeles building and construction regulatory body can sometimes be costly. Consider the regulatory costs, such as "Plan check" which will vary depending on factors like the type of the floor plans you need to approve, and city the property is, city inspections, and more.
If you property has open case with the local building code enforcement, it will make the process of obtaining an ADU permit more complicated which increase the total cost. Click here to search for open building violations.
4. Engineering & Location
The process of putting up an ADU will require multiple specialists include architect to provide a proper floor plans that will be approved by the local authorities and include the extra costs of the construction because the distance from the main street which is the location of the connections to the city utilities.
Building detached ADU with separate address and utility bills will cost more than attached ADU since you will have to add new connections, meters, and new separate additional address.
5. Condition Of The Site
If the property on wetlands or conflicting utilities, or require demolition / foundation or both, it will affect the total cost of the ADU building. If you are planing on garage conversion and the garage is in good condition which allow to use it's foundation it will help the total cost to remain lower.
We have created ADU building cost estimate tool and it's free:
Find out if your eligible to build an ADU:
Talk to our specialist to find out the estimated costs of your ADU: