New California state laws have made accessory dwelling units more practical than ever before for the Los Angeles homeowners.
Once determined that it is possible to build a secondary dwelling on your property, the cost will certainly be your first and foremost consideration. This calculation is not easy for many homeowners, particularly when done on a per square foot basis because it depends on a number of factors, including the complexity of the site and design, quality of materials, and requirement of utilities.
Factors that Influence the Cost of an ADU Per Square Foot
The total ADU cost per square foot is commonly influenced by the following parameters:
New Construction or Conversion?
Typically, the cost of converting an existing garage is around one-third less than building one from scratch. This is because the foundation, framed walls, and roof are already in place. However, it largely depends on their condition. If these elements are in good shape, you would not need to rebuild them, which will significantly bring down the total cost of your ADU.
However, if they are in poor condition, the ultimate cost of your converted garage will not be much more different from what new construction would cost and sometimes even more.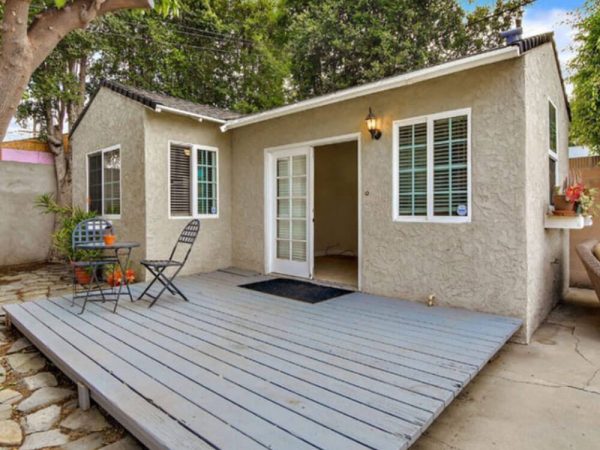 How Many Bedrooms and Bathrooms?
The kitchen and bathroom are the two costliest rooms to build on a per square foot basis. This is so because, unlike larger homes, ADUs do not feature large bedrooms or dining areas that are relatively less expensive to build as compared to full-fledged bathrooms or kitchens.
Are Separate Utilities Required?
Another factor that comes into play is how electrical, mechanical, plumbing, and HVAC utilities are going to be set up? Separate meters vs joint, sewer connection, solar panels requirements, etc'.
The cost of your ADU will be significantly low if it is possible to tie the existing utilities of your main house.
What are Material and Labor Costs?
The quantity and quality of the material will also have an impact on the cost of your ADU. The more quality materials you choose, the higher cost you will end up with;
These materials may include; 
Structural Materials
Doors and windows
Finish Materials
Fixtures and Appliances
Furnishing
The labor costs will widely vary depending on the contractor you will hire.
ADU Construction Cost per SQFT Only in Los Angeles
On average, you can expect to pay;
$185 – $325 per Sqft for Garage Conversion
$200 – $350 per Sqft for a Detached ADU
$200 – $330 per Sqft for an Attached ADU
$200 – $350 per Sqft for a Second Story ADU
It is important to keep in mind that these are only the construction costs.
City Permitting Fees Associated with ADUs
Regardless of the size and type of ADU, there will be some fixed costs associated with it, including;
Design Cost                 $2,000 – $30,000
Plan Costs                   $2,000 – $25,000
Permits Fee                 $1,500 – $12,000
Utility Fees                  $0 – $20,000
ADU Impacts Fees     $2,000 – $18,000 (Only for ADUs over 750 Sqft)
Learn more about ADU permit costs in Los Angeles here.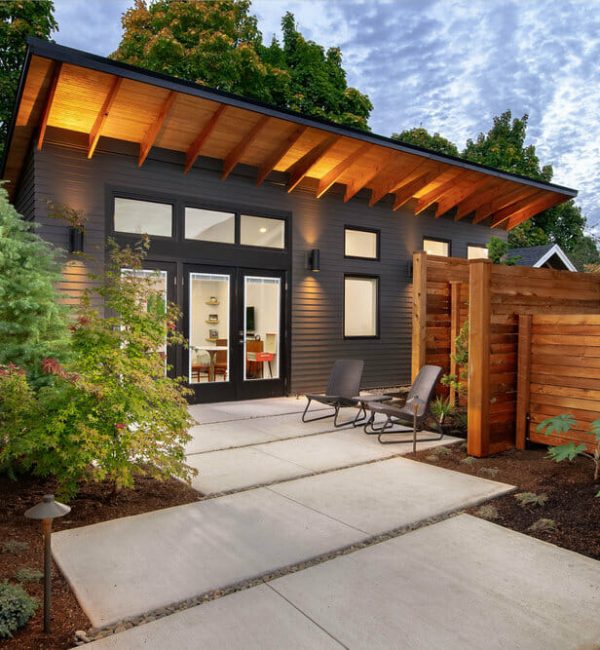 Bottom-Line
Calculating the cost of an ADU on a per square foot basis can be misleading since there are many variables that will decide whether you will be on the low or high end of the estimate. Therefore, the cost of construction for the ADU of having the same square footage can vary significantly depending on the contractor.
In the city of Los Angeles, ADUs prices start at around $80,000 and go up to $300,000 based on their size, type, and quality of construction.
The best way to determine how much it would cost to build an ADU per square foot on your property is to consult with an experienced and reliable contractor.
Need More Information about Your ADU Cost in Los Angeles?
If you are considering designing and building an ADU in Los Angeles and are clueless about how much it would cost, reach out to CCS Inc for an ADU cost estimate.
We will determine what exactly you are looking to build and discuss your needs and goals and provide you with a tailored estimate that will be more precise than an ADU cost per square foot calculation.
Call us today at (323) 405-8909 to get connected with one of our ADU experts.